Jennie Parker
Town Council candidate, Bradford on Avon South
Jennie Parker has recently retired as a social worker and is keen to contribute her time to activities which support the local community. She is a member of the Community Emergency Volunteers and is applying to become a first responder for the NHS.
Jennie has lived in Bradford for over thirty years and her family history in the town goes back several generations.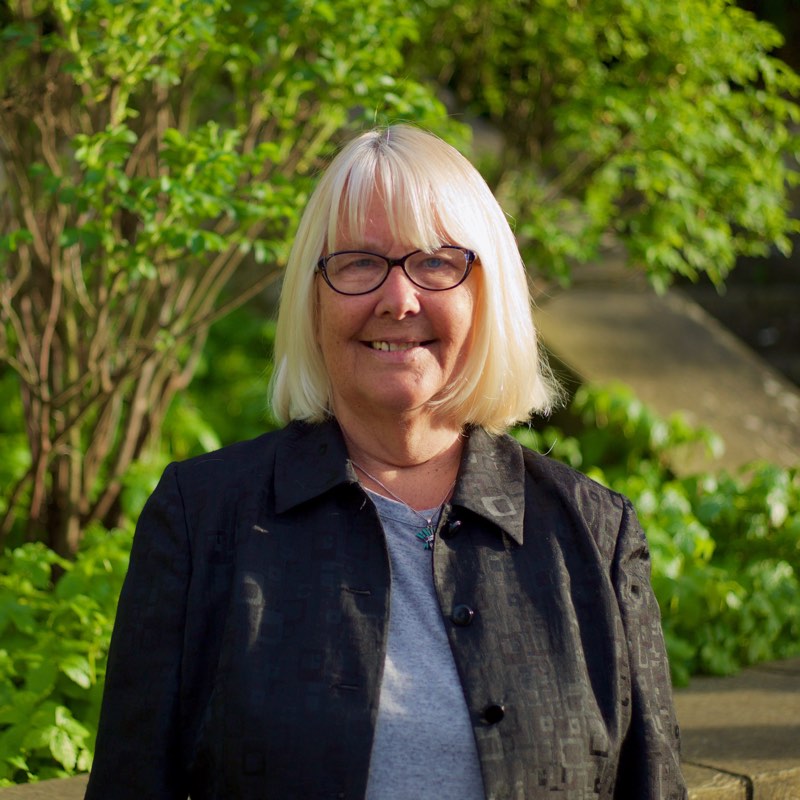 Q&A
So Jennie, tell me about your background in Bradford on Avon.
My family's been involved in Bradford on Avon for a few hundred years. We are distantly related to Lord Bath! They (my family in previous generations) were the Long family. A lot of Bradford on Avon, such as the big houses at the bottom end of the Trowbridge Road, was built by my great, great, great Grandad. He was a builder at the time.
When I was a nurse, working with elderly people in the town, they'd say to me, "Oh, we remember Farmer One Cow, your grandad!" So, I do have a history in the town, although I grew up in Rugby. I used to come here as a child frequently, and then I lived in Jersey but when I came back, I was determined to come to Bradford on Avon because I love Bradford. So we settled down here and have been here about 32/33 years.
I went back to university when I came back to Bradford on Avon and became a social worker. I worked as a social worker in Bristol for twenty two years and now I'm retired.
I also did social work for a short time in Wiltshire, so I do have an understanding of the social implications of the issues that are really troubling Wiltshire at the moment, resources and how the cuts are affecting children and the elderly in our area, and that's something that I'm really interested in.
What makes you interested in standing for the Town Council?
It would be a chance to get my head round something that I'm really, really interested in and maybe give something back to the community that I live in.
When I worked in Bristol I was there so much that I hardly ever saw Bradford on Avon, except at weekends. Now, I really want to become involved in what goes on in the town.
I've joined the Community Emergency Volunteers group (CEV) and that has drawn me back into the community, which is really great. I was a member of the CEV in Bristol. I did masses of training in Bristol but I couldn't do it when I gave up work in Bristol, so I thought 'well, I can transfer my skills' which I did.
Also, my grand-daughter is living with me; she goes to one of the local schools and that's drawn me back into that area of the community, which is really great because I volunteer for them as well. So becoming a councillor would be an extension of this involving myself in the community, plus I've got a lot of time on my hands and I don't want to waste it.
What areas would you be interested in becoming involved with on the Town Council?
Well, obviously as a former social worker, my main interest is children and elderly people, and mental health issues. I would like to get involved with things that support these groups, such as the dementia group and things like that. But also, I find that my horizons are being stretched and I just want to see what else I find interesting as I go along.
Why would you stand for the Liberal Democrats?
Well, I'd never stand as a Conservative, I'm very disillusioned with the Labour party and there are a lot of policies with the Liberal Democrats that I agree with and I feel that's where I stand at the moment. On the whole, I share their values.
Anything to add?
Only that I want to be useful.
I don't want to sit at home, doing the garden and pottering around the house and not doing anything else. I want to do those things as well, but I want to be useful in the town.
I've applied to become a First Responder for the NHS and that would fit in very well; it would also help me to involve myself with the community. I really think that being a councillor is what I would like to do next.